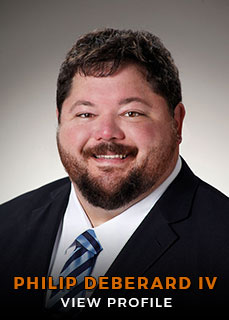 Philip Deberard Injury Attorney has been helping accident victims since 1975. We are proud of our achievements on behalf of our clients.
Our law firm has been recognized with regional, state and national awards, and our professional standards include the necessary technical experience not only to assist our clients with their legal challenges but also to provide the personal attention so vital in establishing a unique lawyer/client relationship.
As one of the fastest growing and most successful law firms on the Treasure Coast, we handle personal injury claims exclusively. This commitment helps us concentrate our skills and efforts to ensure that we maximize the compensation our clients receive for their injuries.
Each client receives our best effort, and we work to prevent problems before they arise, suggesting unique solutions to problems that cannot be avoided. Our clients always receive competent, common-sense advice, and we take the time to listen to our clients and explain the options and solutions, so they can make the choices which best meet their current needs.
We try to solve problems without the frustration and expense of litigation, and a very high percentage of our personal injury claims are settled out of court. However, when litigation becomes necessary, we labor diligently to represent our clients' interests with the highest degree of professionalism and integrity.
Attorney Philip DeBerard has extensive knowledge of the process and procedures of the federal, state and local courts, and has earned an excellent reputation. He is assisted by a talented staff, including experienced paralegals who also work closely with clients.
When you work with Philip Deberard Injury Attorney, you will:
Be served by a team of experienced professionals including attorneys, paralegals, legal assistants and secretaries.
Find a low staff-turnover which ensures continuity in the handling of your case and allows for development of a strong attorney/client relationship.
Receive personal attention.
Have the advantages of a state-of-the-art computer system.
Philip Deberard Injury Attorney is committed to excellence in legal representation. We practice law with one thought in mind - the client comes first!