1 out of every 8 people killed in a traffic accident in the United States is killed in an accident involving a tractor trailer / semi truck. Every year, 500,000 large trucks, or "semis," are involved in accidents on our roads. Of these, 5,000 involve fatalities and over 94,000 crashes resulting in injury. In crashes between passenger vehicles and large semi truck, the ration of occupant fatalities is about 21 to 1.
Truck drivers repeatedly break federal laws by driving:
While fatigued
In excess of the amount of hours they are allowed to drive
With oversized trucks
With overloaded trucks
With improper maintenance
With an inability to see at night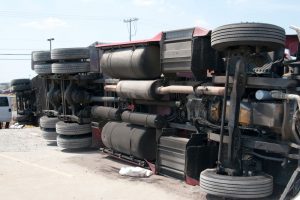 There are several reasons why semi truck accidents are so dangerous: size, speed and driver fatigue. A fully loaded, over-the-road semi truck is a huge piece of machinery. When you put something like that on the road at speeds topping 60 miles an hour you get a monster that can run over anything in its path. Tractor trailer / truck drivers are under constant pressure to move cargo and then, add the growing problem of truck driver fatigue. Often semi truck drivers have 16-hour days which are not uncommon.
To pursue a large semi truck case, performing an accurate accident reconstruction and obtaining documentary evidence from the trucking company to support the case is crucial. We can try and assist you with any and all litigation you wish to pursue if you or anyone you know has been the victim of a tractor trailer / semi truck accident contact us today.
At The Accident Law Offices of Philip DeBerard, personal injury law in Florida is our only business. We have been helping personal injury accident victims in Florida on the Treasure Coast since 1975 and are proud of our achievements on behalf of our Florida personal injury clients.
We have multiple personal injury locations and provide professional legal personal injury service throughout the entire state of Florida including Stuart, Port St. Lucie, Okeechobee, Palm Beach and Vero Beach. Please call us today to discuss your personal injury legal case needs and find out why we are the best choice for your personal injury case in Florida
Our personal injury law firm is accomplished at handling serious injury and wrongful death cases in Florida. Our Attorneys and Lawyers are aggressive in pursuit of personal injury claims, we maintain open communication with our clients, and we bring only the best legal experience to each personal injury case. Contact our offices in Stuart, Port St. Lucie, Okeechobee, Jupiter and Vero Beach - Florida today.